"Today, we need a nation of Minutemen,
citizens who are not only prepared to take arms,
but citizens who regard the preservation of freedom
as the basic purpose of their daily life
and who are willing to consciously work
and sacrifice for that freedom." — John F. Kennedy

There are at least seven very important To-Do items in this Alert.  It is crucial that we all Take Action ASAP.  Liberty is not being eroded, it's being washed away in a torrential flood.  From our earliest beginnings to the Revolutionary War and beyond, history testifies that the preservation of freedom can be attributed to a scant few souls who did not weary, did not faint, but persevered in doing the work that precious few others were willing to do.  Please do not be a spectator and please forward this email to your family and friends.  Thank you fellow patriot, in advance.  ~Jul
---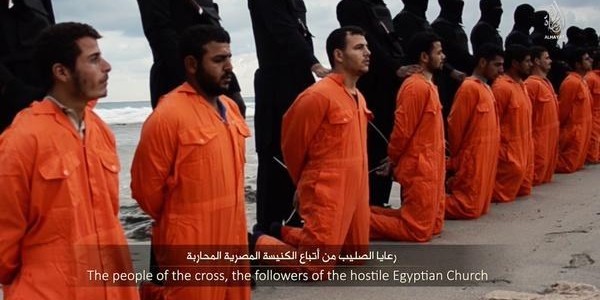 Evil Incarnate
The extreme brutality and horror being committed against Christians and Jews in Libya, Iraq and Boko Haram in the name of Allah has been unfathomable.  It is heart and soul-wrenching to read stories and see images of children being sold for sex or slavery, slaughtered, burned and sometimes buried alive by ISIS, and feeling powerless to do anything about it.
But there is a number of things we can do.
1.  Read the story of the young Egyptian Christian men who only crossed into Libya to seek work, and died singing songs to Jesus.  Then comfort their families with words of encouragement in the comment section below this article:
What the Media Isn't Reporting on ISIS' Beheading of 21 Christian Men
2.  Donate.  Help Liberty Relief International rush humanitarian relief to victims of religious persecution.
3.  Read New Orleans Saints Benjamin Watson's powerful message and caution that ISIS may soon come to America.  Then Pray. Powerfully.  Without ceasing.
4.  Arm yourself.  Take a Firearms training course and get your pistol permit.  See the schedule for Erie County, provided by IRON SIGHT LLC.  EMPact America may soon provide free training classes, which will be posted on Meetup.  If you are not a member of the TEA New York Meetup, become one.
---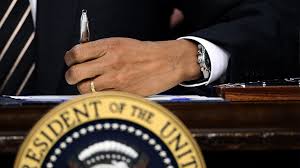 AR-15 Ammo Ban
What 0bama couldn't do by banning/confiscating the AR-15, he is attempting to do by banning the Ammo.  Though 239 House Members have signed on opposing the ban, it is outrageous that it is not unanimous, and that the Senate is not doing the same.  Read it here, and call your House and Senate Reps, links provided.
Obama's Unconstitutional Ammo Ban — TAKE ACTION
---
Stop our Lawless President
Sign the Mandate to Congress to stop Barack Obama's Reckless Disregard of the Law
---
The Obamacare Death Spiral
An excellent article on the SCOTUS hearing of King v. Burwell, and What'll happen if Supremes cut Obamacare subsidies?  
---
Cuomo Corruption Trail Purge
Cuomo corruption accelerates in the midst of Federal corruption probe – Such actions are unacceptable and we must speak out against it.  (Provided by Mike Madigan) Read it here:  Amid Federal Corruption Probe, Andrew Cuomo Administration Purges State Government Emails.
---
Rus and David on Radio
If you missed Rus Thompson and David Bellavia filling in for The Financial Guys on WBEN on Saturday, you can listen to it here. GREAT show.
---
Bush Forewarns, 0bama Changes his Story
George W Bush warned what would happen if we pulled out of Iraq too early, 0bama credits himself on a multitude of occasions for ending the war, Bush's prophecy comes to fruition and 0bama essentially denies having participated in the decision to pull out.  Shees.  Watch the videos here.
---
Conservative Forum – Jack Kemp Tribute Dinner
Charles Krauthammer!  will be the guest speaker at this year's Erie County Conservative Dinner.
See enlarged details at the Meetup, but you must RSVP to Russ Gugino.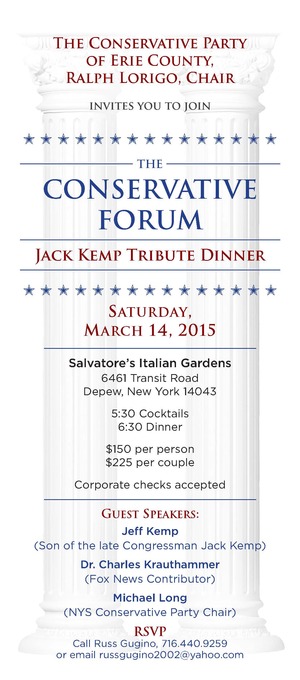 ---
A Funny for You
(Thanks Greg!)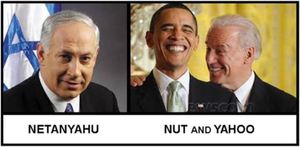 ---
Again, we'd really like to ramp up our efforts with an aggressive public information campaign, host events, support campaigns that honor the Constitution, participate in lawsuits, help fund effective efforts like SCOPE's efforts to Repeal the UnSAFE Act and WTP's Repeal of Common Core.
Please give as generously as you are able.  There are no limits.  You can give online or mail to
TEA NY PAC
PO Box 204
Grand Island, NY 14072
Thank you, and don't give up!
TEA New York
716.406.7407