"Let each citizen remember at the moment he is offering his vote
that he is not making a present or a compliment to please an individual
— or at least that he ought not so to do;
but that he is executing one of the most solemn trusts in human society
for which he is accountable to God and his country."
–Samuel Adams (1781)
Victory on Grand Island!
Mission accomplished! Grand Island Superintendent Theresa Lawrence read a great statement at Tuesday night's Board Meeting.  She admitted they were wrong in the suspension of a student for wearing an NRA T-shirt and the suspension has been expunged from Shane Kinney's school records.  They returned his pocket tool and have stopped the 30 year practice of turning T-shirts inside out.  She respects the 1st and 2nd Amendments, is the daughter of a veteran and her daughter shoots on a team.  Read it at WBEN.com, and check out the national news coverage, while our local Channel 2 is silent.
---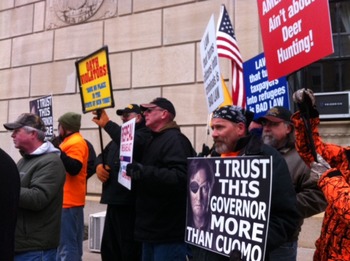 Great Stuff:
See a video of  the Grand Island contingent participating in the Shot Heard Round the US this past Saturday, here.
See pix of Preservers of the 2nd Amendment shredding gun registration forms on the steps of Senator Mark Grisanti's office here;  read the national news stories here
"They have been shredding the Constitution for years," Rus Thompson, the leader of the April 15 rally was quoted by the Buffalo News as saying.  "You shred the Constitution, we'll shred any form you want us to fill out. They can't arrest a million people. What are they going to do?" ~thenewamerican.com
---
SCOPE Chicken BBQ Fundraiser
This Sunday — BE THERE!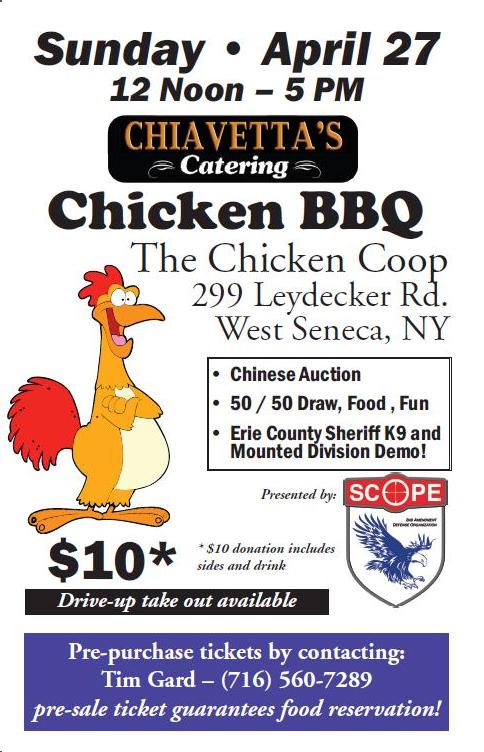 ---
Lots more events..
Buffalo School Board Candidates Night at the Polish Cadets, 927 Grant Street, Thursday May 1st at 6:30pm
Operation Clean Sweep in Niagara Falls with Kathy Weppner at the Seneca Casino, 310 4th Street, Saturday May 3rd at 8:30am
Sportsmans Fundraiser for DiPietro at the North java Fire Hall, 4274 RT 98, Saturday, May 3rd from 1-5pm
See a Constitutional Convention (Con-Con) update here — oral arguments on the delegation selection lawsuit being heard today, Thursday April 24th in Albany.
---
Meetup Organizers Needed
LOTS going on, and help is badly needed posting events on the Meetup calendar.  It's super simple, and I will personally provide a tutorial ~!  If interested, please email Jul at infoteany-at-gmail.com or text me.  Thank you in advance!
Thank you for your diligence, you're helping make national news!
TEA New York