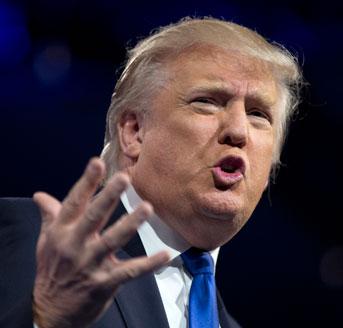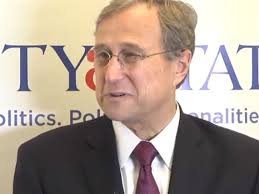 Lead, Follow or Get Out of the Way
Donald Trump is interested in running for Governor of New York, but State GOP Chair Ed Cox is trying to prohibit him from even being considered.  In fact, he even called and texted County Chairs around the State, telling them not to attend a private meeting they were invited to by Trump to talk about a potential run.  Naturally he denied trying to annoint Westchester County Executive Rob Astorino, who only has a million in his campaign account (to counter Cuomo's $33 million), and who we hear isn't even interested in running.  Some say Cox wants to run Astorino knowing he can't win, to gain name recognition for him, to run a succesful campaign in 2018.
BULLCRAP. 
Cuomo needs to be defeated THIS year.  Trump has the name, the money, the ability to defeat Cuomo.   And he's pro-2nd Amendment, pro-Life, and pro-economic growth.  We don't need a long dragged out Primary, taking the attention off Cuomo.  We need a laser focus, NOW.
Read Carl Paladino's excellent letter to Cox and the State GOP here:
Ed Cox & the RINOs Running Off Donald Trump


Tell Cox to GET OUT OF THE WAY.
Email Ed Cox, NY Republican Party Chairman and tell him to stop making unilateral decisions and allow Donald Trump to be properly vettted, at
efcox@pbwt.com
You can copy and paste this short note, if you like:
Subject:  Lead, Follow or Get Out of the Way
Dear Mr. Cox,
I believe one of your primary responsibilities as the State GOP Chairman is to provide the best possible candidate for Governor, and to NOT stand in the way of our County Chairs' ability to properly vet him. As a pro-2nd Amendment, pro-Life, and pro-economic growth candidate, Donald Trump is the best candidate, with the name, the money, the ability to defeat Cuomo, unlike Astorino, who doesn't stand a chance.  We don't need a long dragged out Primary, taking the attention off Cuomo.  We need a laser focus, NOW.
Sincerely,
(Don't forget your name..)
---
Trump in Town
The Erie County GOP has invited the Donald to their annual fundraiser, called the
2014 Lincoln Leadership Reception with Donald Trump
at
Salvatore's Italian Gardens
6461 Transit Road in Depew
Friday, January 31st
5:30-7:30 pm
$100/person, $175/couple
Info here
We're working with Dave DiPietro to get people out to Salvatores to Rally for Trump. If we have a big showing we can continue to send a strong message to the RINOs and Cox. This will make headlines across the state, a packed house and people lined up at Salvatores greeting him! The Democrats plan on protesting him. More information to follow.
---
From Assemblyman David DiPietro:
"Please read EVERYONE!!! I never ask friends to read something, but this is a must! I have been working on getting Mr. Trump to run for Governor for 5 months! We have the opportunity of a lifetime. Everything I am fighting for is summed up here…….Please read! THANK YOU!"
Special Report:
The Trump Revolution
Things are stirring up in New York.
---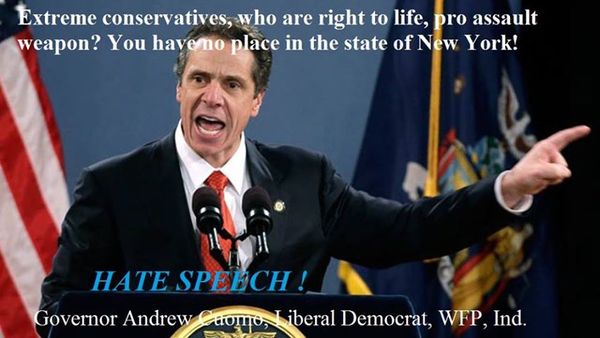 You don't belong here
"…extreme conservatives, who are right to life, pro assault weapon, anti-gay, is that who they are? Because if that is who they are, and if they are the extreme conservatives, they have no place in the state of New York. Because that is not who New Yorkers are."  ~Governor Andrew Cuomo
BT dubs, assault weapons (fully automatic) have always been illegal.  Because Cuomo and his band of misfits decided to change the definition, it changes you from a law-abiding citizen to a criminal.  And very few people that we know of are "anti-gay."  Opposed to gay marriage as a statement of faith, yes.  But we don't have the luxury of picking and choosing which of our Creator's precepts we will abide.  And being in favor of not killing our infants makes us extreme?  Who's extreme now?  Our Italian Dictator, of course.  Il Duce's backpeddling, here.
---
PREACH IT!!
Pastor Jeremy Lundmark of the Community Baptist Church in Apalachin NY gives an excellent sermon about all that is wrong with Andrew Cuomo's statement that conservatives have no place in New York, video here.
---
PUSHBACK
On Cuomo's Facebook page, under a picture of him with racists Al Sharpton and Charlie Rangel, commemorating National Action Network's kickoff to KingDayWeekend, there were 680 mostly if not all negative comments at last count, in reference to his comments that you don't belong here.
---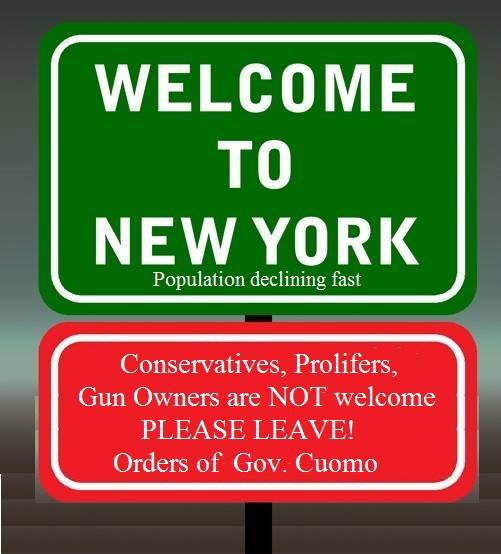 HYPOCRISY PERSONIFIED
A message from our illustrious governor, on the day we celebrate Martin Luther King Jr.'s life and legacy:
Friend,
Today we honor and celebrate the life of Dr. Martin Luther King, Jr. This day is dedicated to recognizing the man who challenged our nation to overcome hatred and injustice, and we take this time to reflect on our shared humanity.
Dr. King taught us that the fight for justice and equality is never over, and he set an example for all to follow as we continue that fight. His commitment to ending racism, poverty, and violence inspires us as we strive here in New York to build a society of equality, fairness, and justice for all. [Emphasis added]
I join with all New Yorkers in remembering the life of this great leader, not only today, but every day.
Sincerely,
Governor Andrew M. Cuomo
---
WIVB, Channel 4 – Great Report
We meant to include this great report by George Richert on The Shot Heard Around NYS, in the last Alert:
Gun Rights Advocates Protest SAFE Act
VIDEO here
---


Our big challenge this year will be to get as many 2nd Amendment supporters registered and out to vote as possible.  Any Town, City or Village Hall should have voter registration forms.  Your mission:  Pick some up and GET TO IT!
Strap in, it's gonna be a big year.
TEANewYork
I'm at war with the world cause I ain't never gonna sell my soul
I've already made up my mind
No matter what I can't be bought or sold
When my faith is getting weak and I feel like giving in
You breathe into me again
I'll stand my ground and never back down
I know what I believe inside
I'm awake and I'm alive