We're On to You, Zero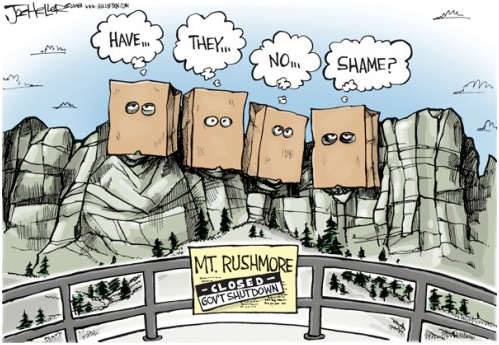 Military priests are being threatened with arrest even if they volunteer to say mass for soldiers, cones are being put in place to block the view to Mount Rushmore, national parks that cost essentially nothing to operate are closed, guards are being hired to block entrance to US cemeteries and monuments even on foreign soil, all to make life as miserable as possible for Americans.  They even removed photos of missing children from the OJP website.  Meanwhile, amid the shutdown, Republicans keep sending bills to the House to fund the military and re-open parks among others that are being ignored, yet Obama and the Libs think we're stupid as they point the finger of blame at us.  Kudos, Tea Partier, for a job well done.  See a bigger list of unnecessary closures here.
Vets storm the closed WWII Memorial in DC (!), and House Republicans ready to negotiate sit across the table from a bunch of empty seats.  Worse than being full of hot air, the Zero flat out LIES when he says the GOP refuses to negotiate.  Read & watch the video here.
WHOA, THIS JUST IN!  Feds Try to Close the Ocean Because of the Shutdown.  LOL
---
Dogs Vs. Hogs
The massive and insatiable blob of government, devouring everything in its path needs to be stopped by whatever means necessary.  Short of a bloody revolution we have precious few men willing to stand on principle and speak the truth.  With help from Senators Rand Paul, Marco Rubio and Mike Lee, Texas Senator Ted Cruz's historic 21 hour and 19 minute filibuster was inspiring, and appears to have set the wheels in motion for a standoff on the current government shutdown — Republicans standing firm on reigning in massive government spending by refusing yet another debt limit increase starting with Obamacare, and Democrats refusing to negotiate one thin red dime as they demand the whole hog.  See highlights here.
---
Rus on WBEN
Listen, as Rus Thompson deftly articulates our position on WBEN with Dave Debo, Sunday.
---
Clueless
A short, brilliantly done funny skit that demonstrates very simply why we're in this economic mess: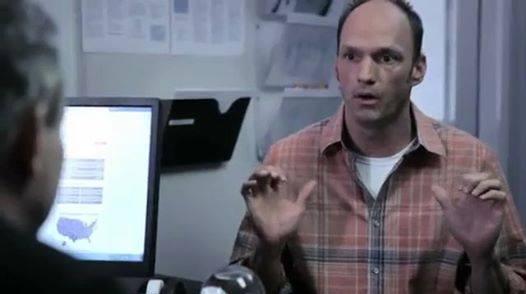 ---
People vs. Public Officials Crooks
As of Oct 1st, The People have voted to have Common Law Grand Juries in 17 counties in New York State.  "Whenever people are well-informed they can be trusted with their own government"   ~ Thomas Jefferson
Click here to attend a very important informational meeting and watch videos regarding Common Law Grand Juries, this Tuesday night:
Public Presentation & Election for the Niagara County Common Law Jury
Lockport Public Library
23 East Ave. Lockport NY
Tuesday, October 8th, 6:00 PM
---
WHAT????
On page 12 of the NYS State Police Guide it states the following: "If a person becomes ineligible to hold a pistol permit, the SAFE Act requires the person to surrender all firearms to police, including all rifles and shotguns for which no license or registration is required."  Wait.  We thought this was about disarming criminals.  Riiiiight.  Read it here.
---
SCOPE Banquet — last chance
Dear 2nd Amendment Supporter:
SCOPE is hosting our 48th Annual Awards Banquet at Lucarelli's Banquet Center, 1830 Abbott Road in Lackawanna, NY • 716.824.8711 on Friday October 11, 2013 and starts at 5:30 pm. It is OPEN BAR until dinner at 7:00 pm with a cash bar after dinner. Our guest speaker is Alan Gottlieb, founder of the Second Amendment Foundation.
I'm pretty sure tomorrow's too late to reserve your seat.  Do it today.
Click here for info.
---
Ted Morton for Legislature
Come join reform candidate Ted Morton to support his candidacy for the Erie County Legislature.  Wednesday, October 16th at Desiderio's in Depew.
Details here.
---
The FDF Dinner
…was "spectacular", according Kathy Weppner, formerly of WBEN, who is now a 21st Century Abolitionist.  We encourage you to do the same!  Details and photos here.
---
Calling the Kettle Black
The Buffalo Board of Education's rule pertaining to no name calling apparently doesn't apply, as long as it's directed at the White Man.  No one, but NO ONE cares more about raising the level of achievement among black and minority students stuck in our failing schools than Carl Paladino, and the disgusting abrogation of responsibility at a recent meeting on the part of Board President Dr. Nevergold is leaving many people stunned.
From Carl Paladino:
Dr. Nevergold…
As a disgrace to the Buffalo Public Schools (BPS), you must resign both as President and a member of the BOE.
I am submitting a proper petition with a tape of the September 25, 2013 meeting to Commissioner John King requesting that he remove you from office. I submit the following deficiencies in your conduct:
---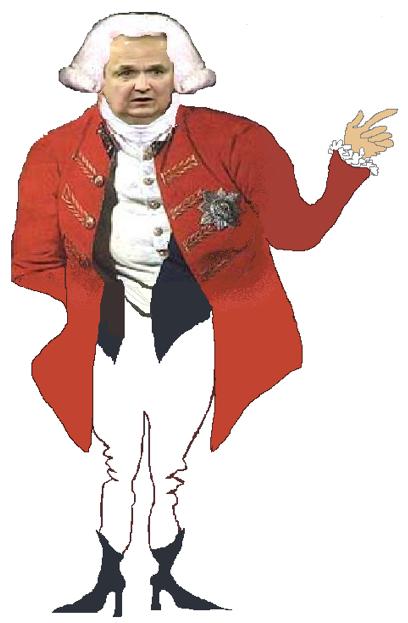 Opposition to the King
Joshua Walker is running for Niagara County Legislature District 15.  His father was the head of the Conservative Party and was ousted by King George Maziarz.  If you can help with his campaign, please give him a call at (716)772-7148
TEA New York's own Tom Larson of Wheatfield and Dave Mongielo of Lockport are running for their respective Town Supervisor seats.  Please get yer boots out, we'll keep you posted on ways you can help.
---
In our stead…
As noted in the past, putting food on the table has prohibited us from facilitating TNY as in the past.  In the absence of regular Alerts, please check out the Blog, and Friend Rus Thompson  & The Financial Guys on Facebook to stay informed, in addition to your other news sources like WorldNetDaily, UKNews and the Canada Free Press.
Also, please check out the Calendar regularly and attend what events you are able. In addition it would be very helpful if you could post comments on the Blog to refute the naysayers, like BP from Manhattan, who thinks you're an idiot with no endgame.
Thank you, and God Bless ~
Jul