Erie/Niagara County UnSAFE Act Forum
Join Rus Thompson, Sheriff Tim Howard, David Bellavia and Stephen Aldstadt in a forum to discuss the SAFE Act and the fallout from it.  The legal challenges are numerous, the People have spoken across the state with County, Town, City and Village governments voting to tell Albany to REPEAL this unConstitutional Law.  Still Cuomo, the Senate and Assembly ignore us.  We must continue on and people need to get more involved and educated.
Food and refreshments are available for purchase.
RSVP here on Meetup, or on Facebook.
Shannon Pub
2250 Niagara Falls Boulevard
Tonawanda, NY
Monday, June 3rd
6:30 PM
---
CON CON UPDATE:


From We the People of New York
May 31, 2013:

If you are a Plaintiff in the NY SAFE ACT, you know by our Update and the media coverage that we had a powerful day in Court yesterday and are now waiting for both the Supreme Court and the Appellate Division – Third Department to weigh in on the case.   
Now, we are turning our attention to the June 10 deadline for our Response on the Con-Con case.
Bob will be doing the research and writing the brief this weekend and it will go out to you early this week, by Tuesday or Wednesday latest.  We need you to read it immediately and if you agree with his comments and wish to "piggyback" onto them, to fill out the verification form we will send, get it notarized, fax it and mail the original back in the mail to us without delay.  This will be a tight deadline.  We've literally had one Brief deadline after the other and really need your cooperation.
---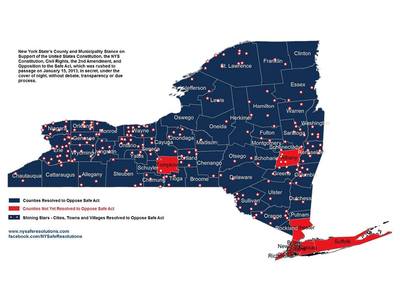 Shining Stars
Check New York State's Shining Stars — all the towns, villages and municipalities that have passed resolutions to uphold the NYS and US Constitution, and oppose the tyrant Cuomo, who took an oath to support and defend the Constitution, got elected, then promptly ground it underfoot.  Click on the image above.


PLEASE CONTINUE TO CALL OUR SENATORS, AND URGE THEM TO BRING THE REPEAL OF THE SAFE ACT TO THE FLOOR FOR A VOTE.
Use the WNY Quick Reference Guide, or Find Your Senator.
---
Dream On
The Dream Act, which provides a free college education to illegals at taxpayer expense, has passed in the NYS Assembly, but hasn't come up yet in the Senate.  That may change though, as Cuomo browbeats a few weak-kneed RINO's, all too willing help their king violate our laws and make it impossible to live here.
The Federal bill, called the Border Security, Economic Opportunity, and Immigration Modernization Act (S. 744) — commonly called the "Gang of Eight bill" after the eight Senators who came up with it, including our illustrious nincompoop NY Senator UpChuck Schumer — is a disaster in the making and will create a massive burden on US citizens.  Read it here.
---
Sheldon Silver is a Shame and an Embarrassment to NYS
Assembly Speaker Sheldon Silver is under more fire to resign, over his covering Vito Lopez's sex scandals.  We need 76 votes to oust him, but currently only two Democrats, including Buffalo's own Mickey Kearns and Brooklyn Assemblywoman Inez Barron are calling for his resignation.  It should be a breeze getting the Repubs to stand together against the Perverted Menace Sheldon Silver, but we need 31 more Democrats.  Democrats of course have always been in the tank with the most corrupt member of the Assembly, their fearless leader.  But it would be well worth your time to put some pressure on.


Call our Democrat Assemblymen and ask them why they haven't called for Shelly's resignation.
Use the WNY Quick Reference Guide, or Find Your Assemblyman.
And please give Mickey Kearns a call to thank him, at 716-608-6099 and 518-455-4691.
We hope to see you tonight.
~TEANewYork
There's so many wars we fought
There's so many things we're not
But with what we have
I promise you that
We're marchin' on