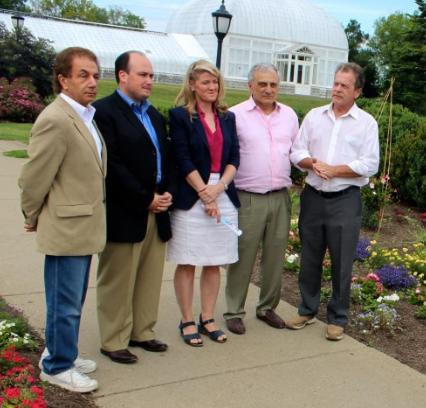 Tell Rush the NY Tea Party
supports Long, not Turner for Senate
Rush Limbaugh is promoting Bob Turner in Tuesday's Primary, to run against Kirsten Gillibrand for NY's US Senate seat in November.  HOWEVER, Carl Paladino, the Conservative Party and many New York Tea Party groups including TEA New York are endorsing Wendy Long, a far better candidate to go up against Gillibrand, the #1 Most Liberal Senator in the US Senate, according to National Journal.  Read it here…and see more pix of the endorsement here, at Stefan Mychajliw's FB page.


Please take one minute today and send Rush Limbaugh a note, asking him to give equal time to Wendy Long.  His email address is elrushbo@eibnet.com.  You can copy and paste the note below (or click on the email link):
**************
Dear Rush,
We appreciate Bob Turner's win against Anthony Weiner in NY-9, and we appreciate Turner's syndication of your radio show when others wouldn't — but the fact is, Turner has stated that it will be necessary to raise taxes, and that he would not defend holding the line on the debt ceiling.  This is unacceptable, as you are well aware of the outrageous taxes here which forced you to move.
On behalf of the brunt of your New York listeners, we implore you to give equal time to Wendy Long, who is highly favored among most New York Tea Party groups.  As a former law clerk for Justice Clarence Thomas, Wendy's knowledge of constitutional law places her far above the other candidates.  In addition, she has received 48% of the GOP delegate votes, the endorsement of the New York Conservative Party, and most recently, the Erie County Conservative Party, the Erie County GOP, TEA New York and former gubernatorial candidate Carl Paladino.
Story here: https://teanewyork.wordpress.com/2012/06/25/tea-new-york-endorsement-for-us-senate-candidate-wbfo/
Thank you —
Your name,
Your town
**************
---
Niagara Patriot Meeting tonight
Wendy Long WILL NOT be able to attend the Niagara Patriot meeting tonight, as was tentatively scheduled.  However, Johnny Destino, the member of Niagara Falls School Board who ran against Niagara Falls Mayor Paul Dyster in the last election will be a guest.  Johnny is challenging Sen. George Maziarz in a Republican primary for the 62nd NY state Senatorial seat.  Senator Maziarz, also invited to attend Monday's meeting, has not yet responded.  Mike Madigan will also speak for a few minutes.
We will also have a report from Hank Zobrist, one of our Niagara County Patriots friends, who with his grandson as his escort participated in a recent Honor Flight trip to Washington, DC.
We hope to hear about other topics including the Niagara County Legislature, local school budget and taxation issues, and may have a limited time available for topics of interest from the floor.
---
The Truth Hurts
So much for spin, tweaking or twisting the truth a little, to give his candidate an edge.  Seems Michael Caputo is now into wholesale distortions of the truth, burning every bridge and scorching every bit of earth on behalf of David Bellavia, running against former Erie County Executive Chris Collins for New York's 27th CD.  Well-qualified in the fine art of hand to hand combat, David has yet to demonstrate what other qualities would make him a good representative for the people of the 27th — but reigning in the toxic rhetoric flowing freely from his campaign is clearly not among them.  Collins is 100% pro-life, pro-marriage as defined by the church, 100% pro-2nd amendment, and being committed to constitutional and fiscally conservative principles, he brought Erie County from a deficit to a $70 million surplus.  Instead of running on the issues, the Bellavia camp treats Collins like the enemy he isn't, pumping out ridiculous accusations on a daily basis. A simple thank you would suffice.
---
Vote Tuesday
There are only Primaries for federal races Tuesday, June 26th — as such in the Erie & Niagara County areas, there are just two races for Republicans to participate in — US Senate and Congress, NY-27.  For more New York Tea Party endorsed or supported candidates, see here.
---
From a Green Nut
We received this note the other day, from a bimbo who told us "Tea Party Polluters," that we need to stop having babies and to kill our pets.
One email to Rush, and vote Tuesday.  Easy week!
Website:  TEANewYork.com
Reply to: Jul at infoteany@gmail.com
Blog:  https://teanewyork.wordpress.com/
Meetup/Calendar:  http://www.meetup.com/TEA-New-York/
Facebook:  http://www.facebook.com/pages/Tea-New-York/
Twitter:  http://twitter.com/teanewyork
Googlegroup Discussion Forum: groups.google.com/group/teanewyork/